Best Putters for Women 2023 – Find the Best Ladies Putters
This post may contain affiliate links. That means if you click and purchase, I may receive a small commission. Learn More.
Top Women's Putter for 2023
Let's talk about putters. Something as simple as a putter isn't all that simple. That's because there are many different styles of putters on the market.
I'll take you through all the different types and what to look for when making a purchase.
The saying goes "drive for show, putt for dough". As a golfer for many years, this is very true. Driving the ball off the tee is very important for many reasons, however, the putter accounts for the most shots made during a round of golf.
If you end up purchasing a set of golf clubs, putters are usually included. But, just like other clubs in the bag, you have the option of purchasing putters separately and can upgrade or change them up at any time.
Be sure to check out the Guide to Putters further below for a better understanding of the types and styles of putters and Frequently Asked Questions (FAQ's).
Here are the top recommendations on women's putters for 2021.
Top Picks for Ladies Putters
---
Reviews of the Best Putters for Women
Odyssey Putters are made by the Callaway brand. And the White Hot line is one of the most popular putters around.
We actually have my father-in-law's old White Hot Odyssey putter from 20+ years ago sitting in our living room that I use for practice and it still feels great today.
The Odyssey White Hot 2 Ball Women's Putter is advanced technology improving upon the original success of the White Hot line. Odyssey's Stroke Lab line focuses on the proper weighting which gives more consistency, forgiveness, alignment, and superior feel with their micro hinge insert. This particular club is designed for women ensuring the right length and balance.
This is also my putter that I have personally been using for the last several years and love it. What I particularly like is that they are sturdy and have a soft feel when the ball makes contact with the face. This Odyssey White Hot OG Seven Putter is made by a top brand known for quality putters at a great price.
---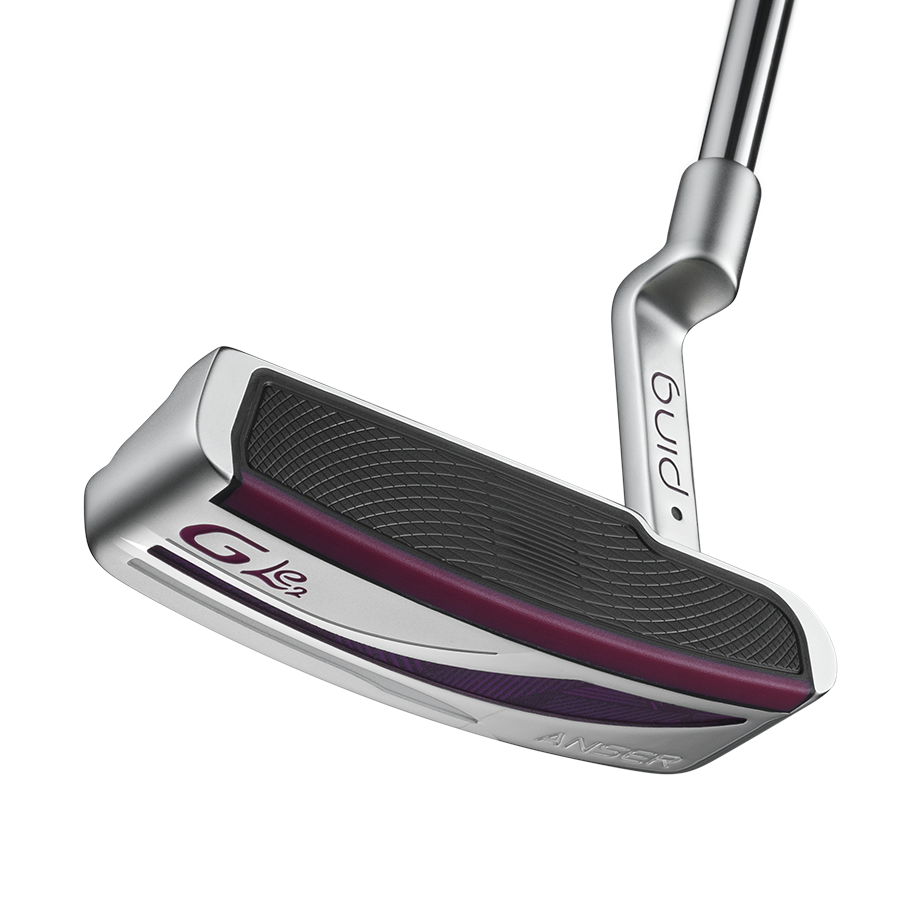 Ping came out with the original Anser in the 1960's. Though putters and golf club technology are incredibly different today, this original blade design is still being used by Ping as well as other large well-known brands. The Ping G LE 2 Anser Women's Putter has a softer feel off the face at impact with it's dual face technology. It is a versatile putter for most putter swing types.
---
TaylorMade Spider X Putter uses "true path alignment" and "pure roll" technologies specifically designed to help with accuracy and performance. The large mallet-sized putter head helps golfers with their line of target and visual. And provides topspin which gives the ball a better roll into the cup.
---
The Wilson Staff Women's Putter is extremely reasonable in price. The Wilson brand has been producing equipment in sports and recreation since the early 1900's all over the world. This is a great putter for anyone who wants a reliable affordable putter.
---
Titleist offers their own top-of-the-line putter brand, designed by Scotty Cameron, which bears his name. The quality and craftsmanship of his specially designed putters are top-notch, paying particular attention to detail. These Scotty Cameron Putters can be customized based on the style you want as well as the length. Features include "vibration dampening" technology that helps produce a pure feel at MOI and a better roll.
---
Buying Guide to Women's Putters
Putters are unique in their design and purpose in the golf game. Most brands carry a line of putters in their offerings. Some brands have a separate line just for their putters. This is seen in Callaway who makes the Odyssey Putters and Titleist, like their wedges, who use a designer specifically to create and craft some very high end putters.
I won't go into a ton of detail here as that could be a very long post in itself, but I'll go into the main features and differences that are important to factor in when purchasing a new putter.
What Are the Different styles of Putters and Why Are They Important?
Let's look at the main features that make putters look different.
Putter Head Styles
The most traditional putter heads are known as "blades". Though, they have been around for years, the most popular one was brought out in the 1960's, which was the Ping Anser. 60 years later this line of putters still remains popular and has been a prototype for many other putter brands. The blade is simple in its design. It has a small head, is fairly basic, yet provides great feel and simplicity.
The other type of putter head that is very popular today is the "mallet" style. These tend to have larger sized heads and typically can help with alignment. The center of gravity is lower and deeper which helps to reduce spin and provides more forgiveness for mishits.
Putter Inserts and Face
The putter face is important because this is where the ball comes in contact with the putter. Since many putters are all about feel, you will either get a soft feel or a harder feel. One is not better as everyone has a different preference. Many putters will use a face insert and technology to help dampen or soften the point of contact with the ball. To help produce a better feel when putting.
Grips
Grips seem to be all the rage now. Mostly the larger fatter grips. You might be asking what the big deal is with these and should you be using them. I haven't switched yet, but may do so in the near future.
What these larger grips do is provide a way to take the hands and the wrists out of the putting stroke. One bad habit I used to do was bend my wrists instead of using a nice pendulum stroke while putting.
To help take the bend out of the wrists and hands is to use these fatter larger grips. They are easy to switch out if you already have a putter. And new putters can be purchased with the larger grip already attached if so desired.
Other Technical Features for Putters
Balance
Without getting too detailed, there are actually many other features in a putter. If you are into these technical specifications, it is quite fascinating when you look more closely at all that can be customized.
For example, the type of balance for each putter includes what is called "face balanced" or "toe balanced". Face balanced means that the center of gravity is fairly centered with where the shaft comes down to meet the putter head.
These are typically good for straighter putting strokes – ones that just go straight back and straight through.
If you have some arc in your putting stroke, it might be good to look into a toe balanced putter. What this means is that when you balance the putter shaft on your finger as in this video, the toe of the putter will point down to the ground.
Offset vs Center Shafted
When you are setting up for a putt and you look down at the putter, you'll be able to see how offset your putter head is to the putter shaft. Some are center shafted, heel-shafted, or offset. Depending on how it is set, can have an effect on your stroke. Eye dominance and hand positioning can have an effect on the type of offset you may want.
Shaft Lengths
We talked a little bit about standard length putters for women versus men. Standard putters usually are available between 32″ – 36″ in length. Belly putters are usually much longer in length from 41″ – 46″. While they are still used today, it became illegal around 2016 to anchor them on the belly.
Putter Loft
Yes, putters even have loft. Not much though. The standard is between 2 – 4 degrees. Anything more than this will cause the ball to skip along the ground and noone wants that. 🙂
Is There a Difference in Men's and Women's Putters?
Yes and no. This one is hard to say. There are putters sold today that are specifically designed or say "women". How they are different is mostly to do with the weight of the putter head and the length of the shaft. I've had both and I really can't tell the difference.
The one I use now is a standard putter but I made sure I got the 33″ length so that it was the correct size for my 5'6″ height. If you look at standard putters, they typically will come standard in a 35″ shaft length. If you opt to go with a standard putter, just make sure the length is appropriate for you as you can choose the length at the time of purchase.
How Often Should I Change Out or Purchase a New Putter?
That is up to you and a very personal decision. I know golfers who like to change them up every other year, and I know golfers who have had the same putter for 15 years because it provides good results and they are so comfortable with it.
My preference is to get a new putter every several years because well, it's fun and the new technology is so good and is much more forgiving. I do tend to stick with the same brand though.
I know and love the feel of my current putter. One that I have been using ever since I started playing golf. So I prefer to stick with the same brand and line if I can and just do an upgrade.
Related Posts
---
Best Putters for Women 2021 – Find the Best Putter For You